Feeling inspired? You can book your dream holiday with Papileon quickly and easily online.
LOOK iNWARDS.
BE YOURSELF.
LOSE YOURSELF iN THE MOMENT.
The name Papileon (Papilio, lat.: butterfly) reflects a special feature of the location: The enchanting vegetation in the garden directly in front of the building provides the perfect habitat for the many butterflies living there. Loft-like rooms and architecture, that opens out to the scenery like the wings of a butterfly, convey the feeling of being as free as a butterfly.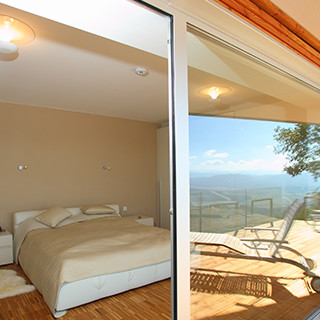 Air conditioning
2 luxurious bathrooms with double washbasin, rain shower and large bath
3 guest rooms for up to 6 people
Jacuzzi and Sauna with breath-taking panoramic views of the scenery
360-degree rotatable designer wood fireplace
High-end designer kitchen, fully stocked fridge and speciality wines.
Entertainment and presentation electronics incl. 3D TV, WIFI and sound system.